At Innofest ID 2018 Siemens Indonesia presents the Smart Factory concept that brings solutions such as SIMATIC IOT2040, Siemens Radio-Frequency Identification (RFID) System and MindSphere, Siemens's cloud-based IoT operating system.
JAKARTA (infolog): The event was organized by the Industry Research and Development Agency of the Ministry of Industry of Indonesia (BPPI) with the theme "Building an Innovation Ecosystem to Make Indonesia 4.0" on 24-27 July 2018 at the Ministry of Industry Building, Jakarta.
The global industry is entering a new era known as Industry 4.0. This new era presents manufacturing digitisation driven by technological advances such as big data analysis, cloud computing, and intensive connections between humans and machines.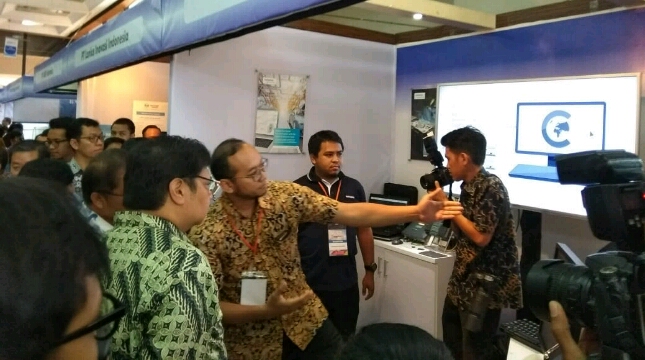 Industry 4.0 is the latest trend of automation and data exchange that leads to the creation of "smart factory".
In the smart factory modular structure, the cyber physical system can monitor the production process, create a virtual copy of the physical form, encourage decentralized decision making and transparency of production data so as to support Industry 4.0.
"We showcase the company's flagship solution to support the digital transformation of the manufacturing sector in Indonesia. By implementing our digital solutions, users and customers can now fully utilize the potential of Industry 4.0, "said Danu Nugroho, Head of Business Unit of PT Siemens Indonesia Automation Process, as quoted by Industry.co.id as saying.
The main advantage of SIMATIC IOT2040 is to be a reliable and open platform for data collection, processing and delivery in industrial production environments.
This product acts as an intelligent gateway capable of standardizing communication from multiple data sources, then analyzing and forwarding it to the appropriate recipients.
This solution makes it possible to apply future-oriented production concepts even to existing factories.
MindSphere is a cloud-based IoT operating system from Siemens that connects products, factories, systems and machines, and generates data from the Internet of Things (IoT) with advanced analysis.
Earlier this month, Siemens and Alibaba Cloud, a business of cloud computing units from Alibaba Group, recently signed a Memorandum of Understanding (MoU) in partnership to push the industrial Internet of Things (IoT) in China.
The two companies will leverage their own industry technologies and resources to build unique IoT solutions to support Industry 4.0, the upgrading and transformation of Chinese manufacturing and other Internet industry initiatives.
In addition, Siemens also showcased Radio Frequency Identification (RFID) System is a perfect solution for automation in the digital age and helps companies to go to "smart factory".
Siemens RFID System helps industries in the field of production and logistics in their supply chain to be transparent and predictable, as well as facilitate optimal planning.
This solution will help streamline and automate in terms of operational efficiency at the plant. (ac)