West Java International Airport (BIJB) Kertajati located in Majalengka is planned to be integrated with Patimban Port, Subang Regency to provide transportation services for the business world.
KERTAJATI (infolog): "Because of the distance of approximately 40 kilometers, so that integration makes it easier and provide services to investors who come in," said President Joko Widodo in a press conference at the airport on Thursday (24/05/2018) as quoted by Akurat.co as saying.
According to the President, the integration between airport facilities with the port is expected to encourage economic growth in West Java Province.
Seeing the Face of BIJB Kertajati, Indonesia's Second Largest Airport After Soetta
Development of BIJB Kertajati, added Jokowi, is the success of cooperation between the central government with the provincial government as well as private business world.
"This business model will be developed in other areas, so the acceleration of pebangunan can really feel," said Jokowi.
The President made a working visit to Majalengka District and Kuningan District, West Java, for two days through BIJB Kertajati.
Seeing the Face of BIJB Kertajati, Indonesia's Second Largest Airport After Soetta
The presidential plane of Indonesia-1 became the first aircraft to land at the airport.
A welcome ceremony by spraying water after a landing plane or "water salute" was made marking the first landing of an aircraft at the airport with a runway length of 2,500 meters.
The Ministry of Transportation will extend the runway to 3,000 meters so that the airport can be landed by a wide-body aircraft similar to Boeing 777 or Airbus A330.

Coordinating Maritime Affairs Minister Luhut Pandjaitan has said the government is in the process of acquiring land for a toll road that will connect the new Kertajati International Airport and the West Java capital of Bandung.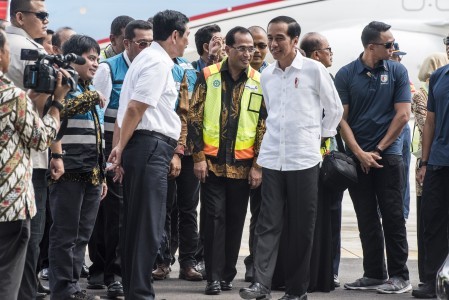 "The land acquisition process has reached 70 to 80 percent of its target. We hope that next year [land acquisition] is complete," Luhut said at the airport in Majalengka, West Java on Thursday, when accompanying President Joko "Jokowi" Widodo at the airport's soft launch.
He said the government would improve the airport's supporting infrastructure.
With the toll road, the airport can be easily accessed from its neighboring cities as well as Patimban Seaport, which would be constructed in Subang, and the industrial estates spread across Bekasi, Kerawang and Purwakarta.
"The area would be very busy and it will help ease traffic congestion in Jakarta," said Luhut as reported by Tribunnews.com.
He also said the relevant ministries are studying the possibility of connecting the airport with the Jakarta-Bandung high-speed railway project.
"We are considering to link the airport with the [high-speed train]. The railway could even be developed further to Yogyakarta, Surakarta and Surabaya," he said, adding that it would improve access within the next five to 10 years.
Meanwhile, Transportation Minister Budi Karya Sumadi said three airlines would serve the airport – low-cost airline Citilink, a subsidiary of national flag carrier Garuda Indonesia, Lion Air and Wings Air. The airport is targeted to serve between 4 and 5 million passengers annually. (ac)